A History of Knoxville
History of Knoxville, Tennessee, began with the establishment of James White's Fort on the Trans-Appalachian frontier in 1786.[1] The fort was chosen as the capital of the Southwest Territory in 1790, and the city, named for Secretary of War Henry Knox, was platted the following year. Knoxville became the first capital of the State of Tennessee in 1796, and grew steadily during the early 19th century as a way station for westward-bound migrants and as a commercial center for nearby mountain communities.[1] The arrival of the railroad in the 1850s led to a boom in the city's population and commercial activity.[1]

While a Southern city, Knoxville was home to a strong pro-Union element during the secession crisis of the early 1860s, and remained bitterly divided throughout the Civil War.[1] The city was occupied by Confederate forces until September 1863, when Union forces entered the city unopposed. Confederate forces laid siege to the city later that year, but retreated after failing to breach the city's fortifications during the Battle of Fort Sanders.[1]

Following the war, business leaders, many from the North, established major iron and textile industries in Knoxville. As a nexus between rural towns in Southern Appalachia and the nation's great manufacturing centers, Knoxville grew to become the third-largest wholesaling center in the South.[1]Tennessee marble, extracted from quarries on the city's periphery, was used in the construction of numerous monumental buildings across the country, earning Knoxville the nickname, "The Marble City."[2]

Knoxville's economy slowed in the early 1900s. Political factioning hampered revitalization efforts throughout much of the 20th century, though the creation of federal entities such as the Tennessee Valley Authority in the 1930s and the ten-fold expansion of the University of Tennessee helped keep the economy stable. Beginning in the late 1960s, a city council more open to change, along with economic diversification, urban renewal, and the hosting of the 1982 World's Fair, helped the city revitalize



Late-Woodland period burial mound on the University of Tennessee campusThe first humans to form substantial settlements in what is now Knoxville arrived during the Woodland period (c. 1000 B.C. – 1000 A.D).[3] Knoxville's two most prominent prehistoric structures are Late Woodland period burial mounds, one located along Cherokee Boulevard in Sequoyah Hills, and the other located along Joe Johnson Drive on the U.T. campus.[4] Substantial Mississippian period (c. 1100–1600 A.D.) village sites have been found at Post Oak Island (along the river near the Knox-Blount line),[5] and at Bussell Island (near Lenoir City).[6]



White's Fort
In 1786, White moved to the future site of Knoxville, where he and fellow explorer James Connor built what became known as White's Fort.[15] The site straddled a hill that was bounded by the river on the south, creeks (First Creek and Second Creek) on the east and west, and a swampy declivity on the north. The fort, which originally stood along modern State Street, consisted of four heavily timbered cabins connected by an 8-foot (2.4 m) palisade, enclosing one-quarter acre of ground.[16]:374 White also erected a mill for grinding grain on nearby First Creek.[16]:375

White's Fort represented the western extreme of the so-called State of Franklin, which Tennessee settlers organized in 1784 after North Carolina reneged on its plans to cede its western territory to the federal government.[13]:3 James White supported the State of Franklin, and served as its Speaker of the Senate in 1786. The federal government never recognized the State of Franklin, however, and by 1789, its supporters once again pledged allegiance to North Carolina.[13]:4

In 1789, White, William Blount, and former State of Franklin leader John Sevier, now members of the North Carolina state legislature, helped convince the state to ratify the United States Constitution.[13]:4 Following ratification, North Carolina ceded control of its Tennessee territory to the federal government.[13]:4–5 In May 1790, the United States created the Southwest Territory, which included Tennessee, and President George Washington appointed Blount the territory's governor.[13]:4–5


Establishment of Knoxville

Map showing Charles McClung's 1791 plat and 1795 extension of KnoxvilleBlount immediately moved to White's Fort (chosen for its central location) to begin resolving land disputes between the Cherokee and white settlers in the region.[13]:5–6 In the Summer of 1791, he met with forty-one Cherokee chiefs at the mouth of First Creek to negotiate the Treaty of Holston, which was signed on July 2 of that year.[13]:5–6 The treaty moved the boundary of Cherokee lands westward to the Clinch River and southwestward to the Little Tennessee River.[13]:5–6

While Blount initially sought to place the territorial capital at the confluence of the Clinch and Tennessee rivers (near modern Kingston), where he had land claims, he was unable to convince the Cherokee to completely relinquish this area, and thus settled on White's Fort as the capital.[13]:6–7 James White set aside land for a new town, which initially consisted of the area now bounded by Church Avenue, Walnut Street, First Creek, and the river, in what is now Downtown Knoxville.[17] White's son-in-law, Charles McClung, surveyed the land and divided it into 64 half-acre lots.[15] Lots were set aside for a church and cemetery, a courthouse, a jail, and a college.[15]

On October 3, 1791, a lottery was held for those wishing to purchase lots in the new city, which was named "Knoxville" in honor of Blount's superior, Secretary of War Henry Knox.[15] Along with Blount and McClung, those who purchased lots in the city included merchants Hugh Dunlap, Thomas Humes, and Nathaniel and Samuel Cowan, newspaper publisher George Roulstone, the Reverend Samuel Carrick, frontiersman John Adair (who had built a fort just to the north in what is now Fountain City), and tavern keeper John Chisholm.[15]


Frontier capital

While Knoxville's population grew steadily in the early 1800s, most new arrivals were westward-bound migrants staying in the town for a brief period.[1] By 1807, some 200 migrants were passing through the town every day.[19]:75 Cattle drovers, who specialized in driving herds of cattle across the mountains to markets in South Carolina, were also frequent visitors to the city.[19]:75 The city's merchants acquired goods from Baltimore and Philadelphia via wagon trains.[18]

French botanist André Michaux visited Knoxville in 1802, and reported the presence of approximately 200 houses and 15 to 20 "well-stocked" stores. While there was "brisk commerce" at the city's stores, Michaux noted, the only industries in the city were tanneries.[20] In February 1804, itinerant Methodist preacher Lorenzo Dow passed through Knoxville, and reported the widespread presence of a religious phenomenon in which worshippers would go into seizure-like convulsions, or "jerks," at rallies.[21] Illinois governor John Reynolds, who studied law in Knoxville, recalled a raucous, anti-British celebration held in the city on July 4, 1812, at the onset of the War of 1812.[22]

On October 27, 1815, Knoxville officially incorporated as a city.[18] The city's new charter set up an alderman-mayor form of government, in which a Board of Aldermen was popularly elected, and in turn selected a mayor from one of their own.[23]:75 This remained Knoxville's style of government until the early 20th century, though the city's charter was amended in 1838 to allow for popular election of mayor as well.[23]:76 In January 1816, Knoxville's newly elected Board of Aldermen chose Judge Thomas Emmerson (1773–1837) as the city's first mayor.[18]


Life in Knoxville, 1816–1854


East Tennessee College, the forerunner of the University of Tennessee, moved to "The Hill" west of downtown Knoxville in 1826In 1816, as the Gazette was in decline, businessmen Frederick Heiskell and Hugh Brown established a newspaper, the Knoxville Register. Along with the Register, Heiskell and Brown published a pro-emancipation newsletter, the Western Monitor and Religious Observer, as well as books such as John Haywood's Civil and Political History of the State of Tennessee (1823), one of the state's first comprehensive histories.[13]:15 The Register celebrated the move of East Tennessee College (the new name of Blount College following its rechartering in 1807) to Barbara Hill in 1826, and encouraged the trustees of the Knoxville Female Academy, which had been chartered in 1811, to finally hire a faculty and hold its first classes in 1827.[26]



Knoxville in the late-1850s, viewed from the west along Cumberland AvenueIn the April 1839 issue of the Southern Literary Messenger, a traveler who had recently visited Knoxville described the people of the city as "moral, sociable and hospitable," but "with less refinement of mind and manners" than people in older towns.[27] In 1842, English travel writer James Gray Smith reported that the city was home to a university, an academy, a "ladies' school," three churches, two banks, two hotels, 15-20 stores, and several "handsome country residences" occupied by people "as aristocratic as even an Englishman... could possibly desire."[28]

In 1816, merchant Thomas Humes began building a lavish hotel on Gay Street, later known as the Lamar House Hotel, which for decades would provide a gathering place for the city's elite.[29] In 1848, the Tennessee School for the Deafopened in Knoxville, giving an important boost to the city's economy. In 1854, land speculators Joseph Mabry andWilliam Swan donated land for the creation of Market Square, creating a venue for farmers from the surrounding region to sell their produce.[30]:4–11


The arrival of the railroads

The East Tennessee, Virginia and Georgia rail yard at the intersection of Gay Street (lower right) and Depot Street, as it appeared in 1871; the roundhousehas since been demolished and replaced by theSouthern TerminalAs early as the 1820s, Knoxville's business leaders viewed railroads— then a relatively new form of transportation— as a solution to the city's economic isolation. Led by banker J. G. M. Ramsey (1797–1884), Knoxville business leaders joined calls to build a rail line connecting the city toCincinnati to the north and Charleston to the southeast, which led to the chartering of the Louisville, Cincinnati and Charleston Railroad (LC&C) in 1836.[25] The Hiwassee Railroad, chartered two years later, was to connect this line with a rail line in Dalton, Georgia.[25]

In spite of Knoxvillians' enthusiasm (the city celebrated the passage of a state appropriations bill for the LC&C with a 56-gun salute in 1837), the LC&C was doomed by a financial recession in the late 1830s, and construction of the Hiwassee Railroad was stalled by lack of funding amidst continued sectional bickering.[25] The Hiwassee was rechartered as the East Tennessee and Georgia Railroad in 1847, and construction finally began the following year. The first train rolled into Knoxville on June 22, 1855, to great fanfare.[24]:106

With the arrival of the railroad, Knoxville expanded rapidly. The city's northern boundary extended northward to absorb the tracks, and its population grew from about 2,000 in 1850 to over 5,000 in 1860.[13]:20 Local crop prices spiked, the number of wholesaling firms in Knoxville grew from 4 to 14,[31]:21–23 and two new factories— the Knoxville Manufacturing Company, which made steam engines, and Shepard, Leeds and Hoyt, which built railroad cars— were established.[31]:21–23 In 1859, the city had 6 hotels, several tanners, tinners, and furniture makers, and 26 liquor stores.[31]:21–23



Economic growth


View across the first Gay Street Bridge in the late 1860s; the bridge shown was eventually destroyed by a floodAccording to historian William MacArthur, Knoxville "grew from a town to a city between 1870 and 1900."[13]:29 A number of newcomers from the North, with the help of prewar local business elites, quickly established the city's first heavy industries. Hiram Chamberlain and the Welsh-born Richards brothers established the Knoxville Iron Company in 1868, and erected a large mill in the Second Creek Valley.[42]:208–210 The following year, Charles McClung McGhee and several investors purchased the city's two major railroads and merged them into the East Tennessee, Virginia and Georgia Railway, which would eventually control over 2,500 miles (4,000 km) of tracks in five states.[43]:196 The city's textile industry took shape with the establishment of the Knoxville Woolen Mills and Brookside Mills in 1884 and 1885, respectively.[13]:46–7



Mead's Quarry in South Knoxville, photographed circa 1890As one of the largest cities in the Southern Appalachian region, Knoxville had long been a nexus between the surrounding rural mountain hinterland and the major industrial centers of the North, and thus had long been home to a thriving wholesaling (or "jobbing") market. Rural merchants from across East Tennessee purchased goods for their general stores from Knoxville wholesalers.[44]:17 With the arrival of the railroad, the city's wholesaling sector expanded rapidly, with over a dozen firms in operation by 1860, and 50 by 1896.[13]:46 In 1866, Knoxville-based wholesaler Cowan, McClung and Company was the most profitable company in the state.[45] By the late-1890s, Knoxville had the third-largest wholesaling market in the South.[44]:18

The railroad also led to a boom in the quarrying and production of Tennessee marble, a type of crystalline limestone found in abundance in the ridges surrounding Knoxville. By the early 1890s, twenty-two quarries and three finishing mills were in operation in Knox County alone, and the industry as a whole was generating over a million dollars in annual profits.[42]:204–6 Tennessee marble was used in monumental construction projects across the nation, earning Knoxville the nickname, "The Marble City," during the late 19th century.[2]
Expansion (1897–1917)


Knoxville in 1895, with North Knoxville and West Knoxville, which were separate cities until 1897Knoxville's first major annexation following the Civil War came in 1868, when it annexed the city of East Knoxville, an area east of First Creek that had incorporated in 1855.[42]:137–8 In 1882, Knoxville annexed Mechanicsville, which had developed just northwest of the city as a village for Knoxville Iron Company and other factory workers. In the 1870s and 1880s, the development of Knoxville's streetcar system (electrified by William Gibbs McAdoo in 1890) led to the rapid development of suburbs on the city's periphery.[23]:100–101 Neighborhoods such as Fort Sanders, Fourth and Gill,Old North Knoxville, and Parkridge, are all rooted in "streetcar suburbs" developed during this period.

In 1889, the area now consisting of Fort Sanders and the U.T. campus were incorporated as the City of West Knoxville, and the area now consisting of Old North Knoxville and Fourth and Gill incorporated as the City of North Knoxville. Knoxville annexed both in 1897.[42]:139–147 In 1907, Parkridge,Chilhowee Park, and adjacent neighborhoods incorporated as Park City.[23]:104 Lonsdale, a factory village northwest of the city, and Mountain View, located south of Park City, incorporated that same year.[23]:104 Oakwood, which developed alongside the Southern Railway's Coster rail yard, incorporated in 1913.[23]:104 In 1917, Knoxville annexed these four cities, along with the burgeoning suburb of Sequoyah Hills and parts of South Knoxville, effectively doubling the city's population, and increasing its land area from 4 to 26 square miles (10 to 67 km2).[23]:104

As Knoxville grew, the city's boosters continuously touted the city as an industrial boom town in an attempt to lure major companies. In 1910 and 1911, two major national fairs, the Appalachian Expositions, were held at Chilhowee Park.[59] A third, the National Conservation Exposition, was held in 1913. The fairs demonstrated the economic trend known as the "New South," the transition of the South from an agricultural-based economy to an industrial one.[59] The fairs also advocated the responsible usage of the region's natural resources.[59]


Urban issues

Gay Street, photographed by theDetroit Publishing Company in the early 1900sKnoxville's rapid growth in the late 19th century led to increased pollution, mainly from the increasing use of coal,[44]:29 and a rise in the crime rate, exacerbated by the influx of large numbers of people with very low-paying jobs.[44]:27 The city, which had suffered serious cholera outbreaks in 1854 and 1873, and smallpoxepidemics throughout the 1860s, created a health department in 1879, and established a city hospital in 1884.[23]:91–3 Activists such as Lizzie Crozier French and businessmen such as E.C. Camp established organizations that helped the poor.



Child workers at Knoxville'sBrookside Mills, photographed byLewis Hine in 1910By the 1880s, Knoxville had a murder rate that was higher than Los Angeles's murder rate in the 1990s.[55]:102 Journalist Jack Neely points out that "saloons, whorehouses, cocaine parlors, gambling dens, and poolrooms" lined Central Street from the railroad tracks to the river.[60] High-profile shootouts were not uncommon, the most well-known being the Mabry-O'Connor shootout on Gay Street, which left banker Thomas O'Connor, businessman Joseph Mabry, and Mabry's son, dead in 1882.[61]In 1901, Kid Curry, a member of Butch Cassidy's Wild Bunch, shot and killed two police officers at Ike Jones's Bar on Central.[62] The Kid Curry shooting helped fuel calls for citywide prohibition, which was enacted in 1907.[62]

After World War I, the United States suffered a major economic recession, and Knoxville, like many other cities, experienced an influx of migrants moving to the city in search of work. Racial tensions heightened as poor whites and blacks competed for the few available jobs, and both theKu Klux Klan and the National Association for the Advancement of Colored People (NAACP) opened chapters in the city.[63] On August 30, 1919, these tensions erupted in the so-called Riot of 1919, the city's worst race riot, which shattered the city's vision of itself as a racially tolerant Southern town.[63]

Transition to a modern city (1920–1960)[edit]
Louis Brownlow

The Holston and Burwell buildings dominated Knoxville's skyline in 1919In 1912, Knoxvillians replaced their mayor-alderman form of government with a commissioner form of government that consisted of five commissioners elected at-large, and a mayor chosen from among the five.[44]:38–9 Following the 1917 annexations, the city began to struggle as it extended services to the newly annexed areas, and it became clear the new government was ineffective at dealing with the city's financial issues.[44]:38–9 In 1923, the city voted to replace the commissioners with a city manager-council form of government, which involved the election of a city council, who would then hire a city manager to oversee the city's business affairs.[13]:53

The first city manager hired by Knoxville was Louis Brownlow, the successful city manager of Petersburg, Virginia, and a cousin of Parson Brownlow.[44]:39 When Brownlow arrived in Knoxville, he was horrified by the city's condition, later writing that he found "something new and more disturbing" every day.[64]:166 There were no paved roads connecting Knoxville with other major cities. The lone operable tank of the city's waterworks was full of cracks that Knoxvillians had been lazily plugging with gunny sacks.[64]:168 The city hospital was unable to buy drugs, as it was deeply in debt, and its credit had been cut off.[64]:169 City Hall, then located on Market Square, was filthy, noisy and disorganized.[64]:167

Brownlow immediately got to work, negotiating a more favorable bond rate and ordering greater scrutiny of all purchases.[64]:173–9 He also convinced the city to purchase the vacated Tennessee School for the Deaf building for use as a city hall.[64]:180 While Brownlow had some initial success, his initiatives met staunch opposition from South Knoxville councilman Lee Monday, who according to Brownlow, was "representative of that top-of-the-voice screamology of East Tennessee mountain politics."[64]:190 Opposition to Brownlow gradually intensified, especially after he called for a tax increase, and following the election of a less-friendly city council in 1926, Brownlow resigned.[64]:195–8


Economic struggles
While Knoxville experienced tremendous growth in the late 19th century, by the early 1900s, the city's economy was beginning to show signs of stagnation.[13]:48–9 The natural resources of the surrounding region were either exhausted or their demand fell sharply, and the decline of railroads in favor of other forms of shipping led to the collapse of the city's wholesaling sector.[13]:59–60Population growth also declined, though this trend was masked by the 1917 annexations.[44]:36

Historian Bruce Wheeler suggests that the city's overly provincial economic "elite," which had long demonstrated a disdain for change, and the masses of new rural ("Appalachian") and African-American migrants, both of whom were suspicious of government, formed an odd alliance that consistently rejected major attempts at reform.[44]:38–44 As Knoxvillians were adamantly opposed to tax increases, the city consistently had to rely on bond issues to pay for city services.[44]:44 An increasingly greater portion of existing revenues was required to pay interest on these bonds, leaving little money for civic improvements. Urban neighborhoods fell into ruin and the downtown area deteriorated.[44]:44–6 Those who could afford it fled to new suburbs on the city's periphery, such as Sequoyah Hills, Lindbergh Forest, or North Hills.[44]:45–6

During the Great Depression, Knoxville's six largest banks either failed or were forced into mergers.[44]:56 Construction fell 70%, and unemployment tripled.[44]:57–8 African Americans were hit hardest, as business owners began hiring whites for jobs traditionally held by black workers, such as bakers, telephone workers, and road pavers.[44]:58 The city was forced pay its employees in scrip, and begged creditors to allow it to refinance its debt.[44]:57–8


Federal programs and infrastructure growth

Tennessee Coach Companybaggage agent in Knoxville, photographed by Esther Bubley in 1943In the 1930s and early 1940s, several major federal programs provided some relief to Knoxvillians suffering amidst the Depression. The Great Smoky Mountains National Park, which wealthy Knoxvillians had led the drive to create, opened in 1932.[13]:55–6 In 1933, the Tennessee Valley Authority (TVA) was established with its headquarters in Knoxville, its initial purpose being to control flooding and improve navigation in the Tennessee River watershed, and provide electricity to the area.[13]:61–3 During World War II, the construction of Manhattan Project facilities in nearby Oak Ridge brought thousands of federal workers to the area, and helped boost Knoxville's economy.[13]:61–3



First Creek floodwaters at 6th and Washington, photographed in 1938. Dam construction by TVA in the 1930s and 1940s helped alleviate flooding in the Tennessee Valley.Kingston Pike saw a boom in tourism in the 1930s and 1940s as it lay along a merged stretch of two cross-country tourism routes, the Dixie Highway and the Lee Highway.[65] During the same period, traffic to the Smokies led to development along Chapman Highway (named for the park's chief promoter, David Chapman) in South Knoxville. In the late 1920s, GeneralLawrence Tyson donated land off Kingston Pike for McGhee Tyson Airport, named for his son, World War I aviator Charles McGhee Tyson (the airport has since moved to Blount County).[43]:211–5 In the late 1940s, Knoxville replaced its streetcar system with buses.[43]:230 TVA's completion of Fort Loudoun Dam in 1943 brought modifications to Knoxville's riverfront.[23]:118

In 1946, travel writer John Gunther visited Knoxville, and dubbed the city, the "ugliest city" in America.[44]:61–2 He also mocked its puritanical laws regarding liquor sales and the showing of movies on Sunday, and noted the city's relatively high crime rate.[44]:61–2 While Knoxvillians vigorously defended their city, Gunther's comments nevertheless sparked discussions regarding the city's unsightliness and its blue laws. The ordinance forbidding the showing of movies on Sunday was done away with in 1946, with the help of the state legislature.[44]:87 Knoxville legalized packaged liquor in 1961, though the issue remained a contentious one for years.[44]:65



Downtown revitalization efforts

The Market House on Market Square, constructed in 1897 and demolished in 1960Beginning in the 1950s, Knoxville made serious efforts to reinvigorate the downtown area. One of the city's first major renovation efforts involved the replacement of the large Market House on Market Square with a pedestrian mall.[44]:116–8 The city also made numerous attempts to lure shoppers back to Gay Street, starting with the Downtown Promenade in 1960, in which walkways were constructed behind buildings along the street's eastern half, and continuing with the so-called "Gay Way," which included the widening of sidewalks and the installation of storefront canopies, in 1964.[44]:118 Downtown retailers continued to slip, however, and with the completion of West Town Mall in 1972, the downtown retail market collapsed. Miller's, Kress's, and the three surviving downtown theaters had all closed by 1978.[44]:118, 153

In 1962, Knoxville annexed several large communities, namely Fountain City and Inskip north of the city, and Bearden and West Hills west of the city. This brought large numbers of progressive voters into the city, diluting the influence of Cas Walker and his allies.[44]:138–9 In the early 1970s, Mayor Kyle Testerman, backed by a more open city council, implemented the "1990 Plan," which essentially abandoned attempts to lure large retailers back to the downtown area, aiming instead to create a financial district accompanied by neighborhoods containing a mixture of residences, office space, and specialty shops.[44]:147

In 1978, Knoxville and Knox County voters again voted on the issue of metropolitan government. In spite of support by U.T. president Edward Boling, Mayor Randy Tyree (Testerman's successor), Pilot president Jim Haslam, Knoxville Superintendent of Schools Mildred Doyle, and Knox County judge Howard Bozeman, the initiative again failed.[44]:154 While a majority of Knoxvillians had voted in favor of consolidated government, a majority of Knox Countians had voted against it.[44]:155


1982 World's Fair
In 1974, Downtown Knoxville Association president Stewart Evans, following a discussion with King Cole, president of the 1974 Spokane Exposition, raised the possibility of a similar international exposition for Knoxville.[44]:157 Testerman and Tyree both embraced the fair, though the city council and Knoxvillians in general were initially lukewarm to the idea.[44]:160–1 One key supporter of the fair was rogue banker Jake Butcher, who in 1975 seized control of Knoxville's largest bank, Hamilton National, and shook up the city's conservative banking community.[44]:158 Following his failed gubernatorial campaign in 1978, Butcher turned his attention to the fair initiative, and helped the city raise critical funding.[44]:159

To prepare for the World's Fair, the merged stretch of I-40 and I-75 in West Knoxville was widened, and I-640 was constructed.[44]:162 The old L&N yard along Second Creek, home to a rough neighborhood known as "Scuffletown," was chosen for the fair site, largely for its redevelopment potential.[44]:160 Three hotel chains— Radisson, Hilton, and Holiday Inn— built large hotels in the downtown area in anticipation of the influx of fair visitors.[44]:162 The fair, officially named the International Energy Exposition, was open from May 1 to October 31, 1982, and drew over 11 million visitors.[44]:162 Its success defied the expectations of the Wall Street Journal, which had derided Knoxville as a "scruffy little town," and had predicted the fair would fail.[44]:162

While the fair was profitable, it nevertheless left Knoxville in debt, and failed to spark the redevelopment boom Testerman, Tyree, and the fair's promoters had envisioned.[44]:173 Furthermore, on the day after the fair closed, the FDIC raided all of Butcher's banks, leading to the collapse of his banking empire, and threatening the city's financial stability.[44]:167–8 Testerman replaced an embattled Tyree as mayor in 1983, and attempted to reinvigorate interest in his downtown redevelopment plans.[44]:169–170


1980s, 1990s and 2000s

Sullivan's Saloon, photographed byJack Boucher in 1976, following years of deterioration; this building was one of first to be renovated by developer Kristopher KendrickThe second Testerman administration stabilized the city's finances, initiated urban renewal projects in Mechanicsville and East Knoxville, and consolidated Knoxville City and Knox County schools.[44]:173 With the help of rising entrepreneur Chris Whittle, Testerman came up with an updated downtown redevelopment plan, the "1987 Downtown Plan."[44]:171–3 This new plan called for further renovations to Market Square and the beautification of Gay Street.[44]:173

Victor Ashe, Testerman's successor, continued redevelopment efforts, focusing mainly on parks and blighted areas of East and North Knoxville. As the city's westward expansion along Kingston Pike had been thwarted by the incorporation of Farragut as a town in 1980, Ashe, rather than focus on large-scale annexations, turned instead to "finger" annexations, which involved annexing small parcels of land at a time.[44]:178–9 Ashe would make hundreds of such annexations during his 16-year tenure, effectively expanding the city by over 25 square miles.[44]:182

Preservation efforts in Knoxville, which have preserved historic structures such as Blount Mansion, the Bijou Theatre, and the Tennessee Theatre, have intensified in recent years, prompting the designation of numerous historic overlay districts throughout the city.[66] The efforts of developers such as Kristopher Kendrick and David Dewhirst, who have purchased and restored numerous dilapidated buildings, gradually helped lure residents back to the Downtown area.[67][68] In the 2000s, Knoxville's planners turned their focus to the development of mixed residential and commercial neighborhoods (such as the Old City), cohesive, multipurpose shopping centers (such as Turkey Creek in West Knoxville), and a Downtown area with a mixture of unique retailers, restaurants, and cultural and entertainment venues, all with considerable success.[69]

Historiography of Knoxville[edit]The East Tennessee Historical Society's annual journal, published since 1929, contains numerous articles on Knoxville and Knoxville-area topics. The Society has also published two comprehensive histories of Knoxville and Knox County, The French Broad-Holston Country (1946), edited by Mary Utopia Rothrock, and Heart of the Valley (1976), edited by Lucile Deaderick. In 1982, the Society published a follow-up to Heart of the Valley, William MacArthur's Knoxville: Crossroads of the New South, which includes hundreds of historic photographs. Other comprehensive histories of the city include William Rule's Standard History of Knoxville (1900) and Ed Hooper's Knoxville (2003), the latter being part of Arcadia's "Images of America" series.

Knoxville's history from the end of the Civil War to the modern period is covered in Knoxville, Tennessee: Continuity and Change in an Appalachian City (1983), written by Michael McDonald and Bruce Wheeler, and subsequently expanded by Wheeler as Knoxville, Tennessee: A Mountain City in the New South (2005). Mark Banker's Appalachians All (2010) discusses the development of three East Tennessee communities, Knoxville, Cades Cove, and the Clearfork Valley (in Campbell and Claiborne counties).

Since the early 1990s, Metro Pulse editor Jack Neely has written numerous articles (often for his column, "The Secret History") that recall some of the more colorful, odd, obscure, and forgotten aspects of the city's history. Neely's articles have been compiled into several books, including, The Secret History of Knoxville (1995), From the Shadow Side (2003), and Knoxville: This Obscure Prismatic City(2009). Arcadia has published several short books on local topics as part of its "Images of America" series, including Ed Hooper's WIVK (2008) and WNOX (2009), and 1982 World's Fair (2009) by Martha Rose Woodward. Other books on Knoxville topics include Wendy Lowe Besmann's Separate Circle: Jewish Life in Knoxville, Tennessee, which details the development of the city's Jewish community, and Sylvia Lynch's Harvey Logan in Knoxville (1998), which covers Kid Curry's time in the city.

The Junior League of Knoxville's Knoxville: 50 Landmarks (1976), provides descriptions of various historical buildings in the city. A more detailed overview of the city's architectural development is provided in "Historic and Architectural Resources of Knox County" (1994), a pamphlet written by Metropolitan Planning Commission preservationist Ann Bennett for the National Register of Historic Places. The National Register includes over 100 buildings and districts in Knoxville and Knox County, with extensive descriptions of the buildings provided in their respective nomination forms, which are being digitized for the Register's online database.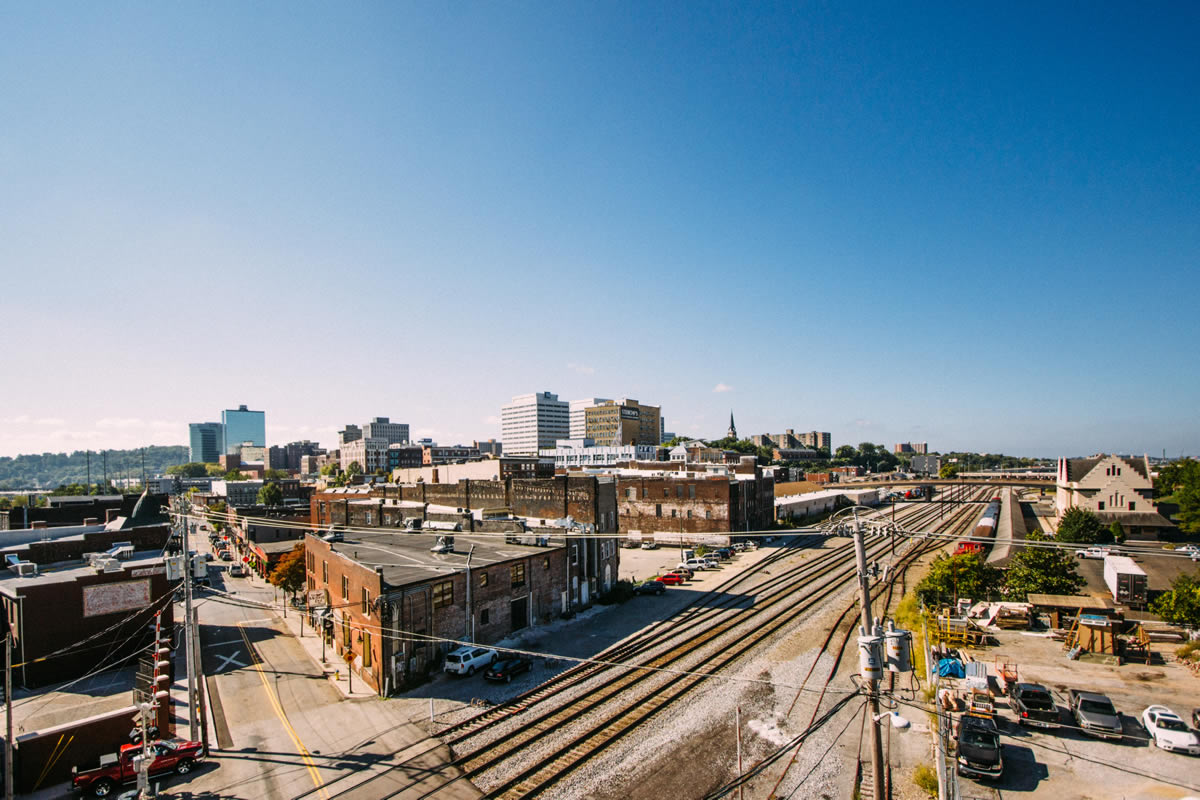 Explore Downtown
Every block of Downtown Knoxville has a different name, different culture and an eclectic way of presenting that to the inhabitants.
By block:
100 Block of Gay Street.
This houses many of the older condos and buildings as well as the original roads expansion bringing Gay Street itself up over 50 feet higher. Private tours are available for "underground Knoxville."
Gay Street.
This is the 200-600 block of Downtown Knoxville. Mast General Store and Market Square shopping are two beautiful places to visit while on this block. Many older buildings including the original Sears building have been converted into living spaces.
Jackson Ave Corridor.
This has become a newly renovated part of the "Old City" or 100 Block turnoff area of Downtown Knoxville. As recent as 2016, new construction is happening and several brewing companies have taken interest in relocating to this area.
Market Square.
This was the center of town as mentioned in the History section. Several businesses and shops are located here as well as local festivals and a weekly farmers market.
Old City.
The night life of downtown. Several large manufacturing buildings stand here today converted into city dwelling and swanky late night entertainment spots.
Union Avenue.
A less noticed area of Downtown but no less important. Union Ave houses some of the older hotels and shops in Knoxville. A local favorite, Pete's Cafe, offers down home cooking for locals and the five star historic hotel with the nationally recognized, Peter Kern Library, awaits this mysterious location.
Volunteer Landing.
Where everyone goes to play on the river! This beautiful area hosts some fine dining and beautiful lakeside walking and biking.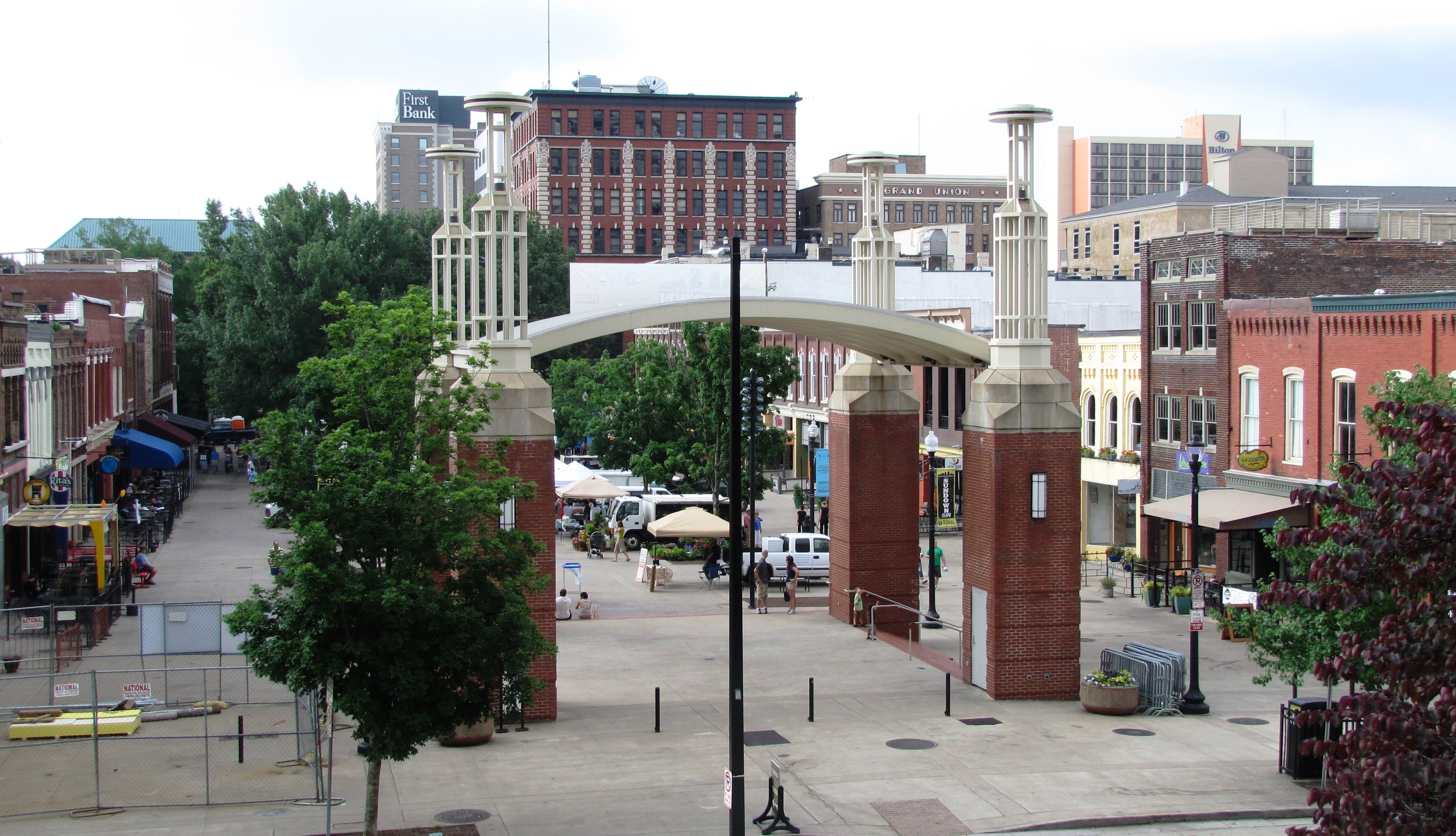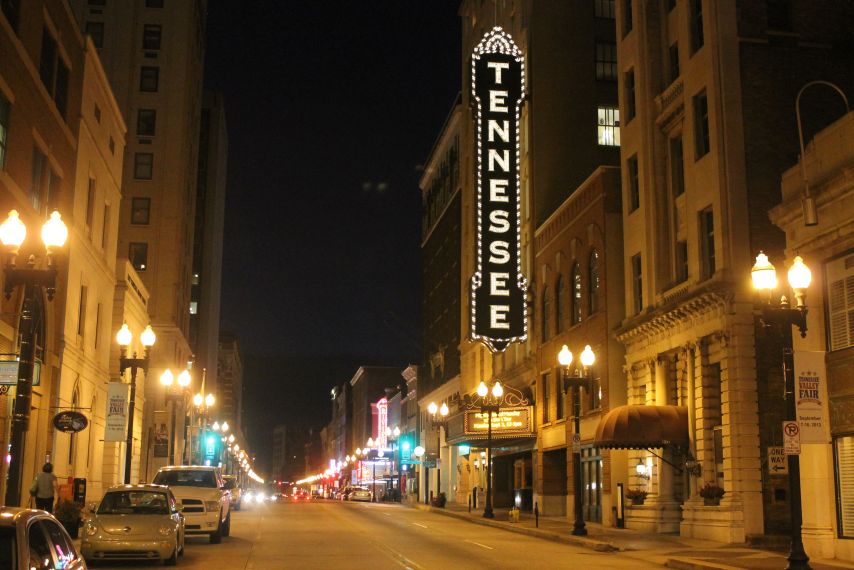 Why Downtown Knoxville?
As a previous condo owner and resident of the Old City area of Downtown Knoxville, I can attest that I miss living int eh hustle and bustle of downtown life. The area boasts so many amazing things to do ranging from specialty coffee and beers to high end non-chain eateries that can truly blow your mind with creative foods.
If you are seeking a place you can walk or bike or hike anywhere you need to be, this is it.
Information provided by KNOXVILLE AREA ASSOCIATION OF REALTORS ©Copyright 2018. All rights reserved. This information is being provided for the consumers' personal, non-commercial use and may not be used for any purpose other than to identify prospective properties the consumers may be interested in purchasing. This information is updated weekly, however, some of these properties may subsequently have sold and may no longer be available. The Real Estate Broker providing this data believes it to be correct, but advises interested parties to confirm the data before relying on it in a purchase decision.
Updated: 17th October, 2019 2:16 AM.